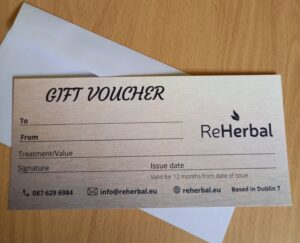 Gift Vouchers
Looking for an unique gift for your loved ones? Our Gift Voucher can give someone the gift of care and relaxation and an opportunity to find out more about connection between physical, mental and emotional wellbeing.
Sometimes we forget or we do not have enough time for ourselves. Our gift card help you to slow down and take a break from the world.
Gift Vouchers are available for single or combined treatments. We will post or send online. Online Gift Vouchers will be send as an attachment and printed off.
For more information or to purchase our Gift Vouchers contact Renata on 087 629 6984 or send an email to info@reherbal.eu